About
There is an "about" page on each of my websites linked to this home page. You can probably get all the information you want from those: God a Practical Guide (a website about God, religion, spirituality, all that sort of stuff and stuff related to it.... sort of), gallery (artwork website), and Wandering off track blog (yes, as random as it sounds)
Other than that what can I say
My mother always told me about how I was a very determined, persistent child with firm ideas and opinions from the time I was three. She was an artist and began teaching me to draw when I was five and I became completely captivated by art for the rest of my life. I remember even at the age of six thinking a lot about stuff, walking around by myself thinking about stuff. At seven became an avid reader - again for the rest of my life. And possibly because of that began writing stories by the time I was eleven, and also writing poetry (and started my own collection of favorite poets - among them at the time were Emily Dickenson and Carl Sandburg). And yes, I'm still doing those things now as well.
We had a collie dog named Jeff when I was three and a cat (though I don't remember her/his name). I am the oldest of six, and we all brought home stray animals of every sort all our lives... and Mother had to make sure they were all taken care of properly. When I began my own independent adult life (after dropping out of several colleges and my Dad saying "well get a job then") I always had dogs and cats as my furry babies - usually several of them at the same time. So furry creatures are another of the things I count as part of my inherent nature, personality, soul.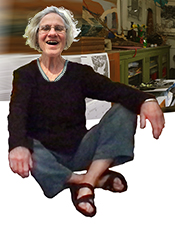 For the past 30 years I've lived with a very special man who soothes my (often) ruffled feathers, knows the kinds of movies I like, and the food I like, lets me do my own thing (though sometimes advising me to be careful and not hurt myself), and gives great hugs.

That's about all. Oh, and I'm 72 ..... so I've been doing all of the above a lot.....for a long time!